In this article, we are going to share
Introduction to paint by numbers
Step-by-step guide
Some fantastic tips that will help you to boost your creativity
So let's get started with the article itself.
You must be wondering to know that paint by numbers started a long way back, nearly a century ago. Yes, you heard it right. Firstly, it was started in 1950 by Max S. Klein, who named it crayon by number.
We are here to give wings to your dreams if you ever desire to paint a canvas like a pro artist. Here, we have provided a complete tutorial for getting started with a painting by numbers. This article comprises information from beginner to advance levels. So whether you are naïve or proficient in paintings, something interesting is on your way. Let's take a tour.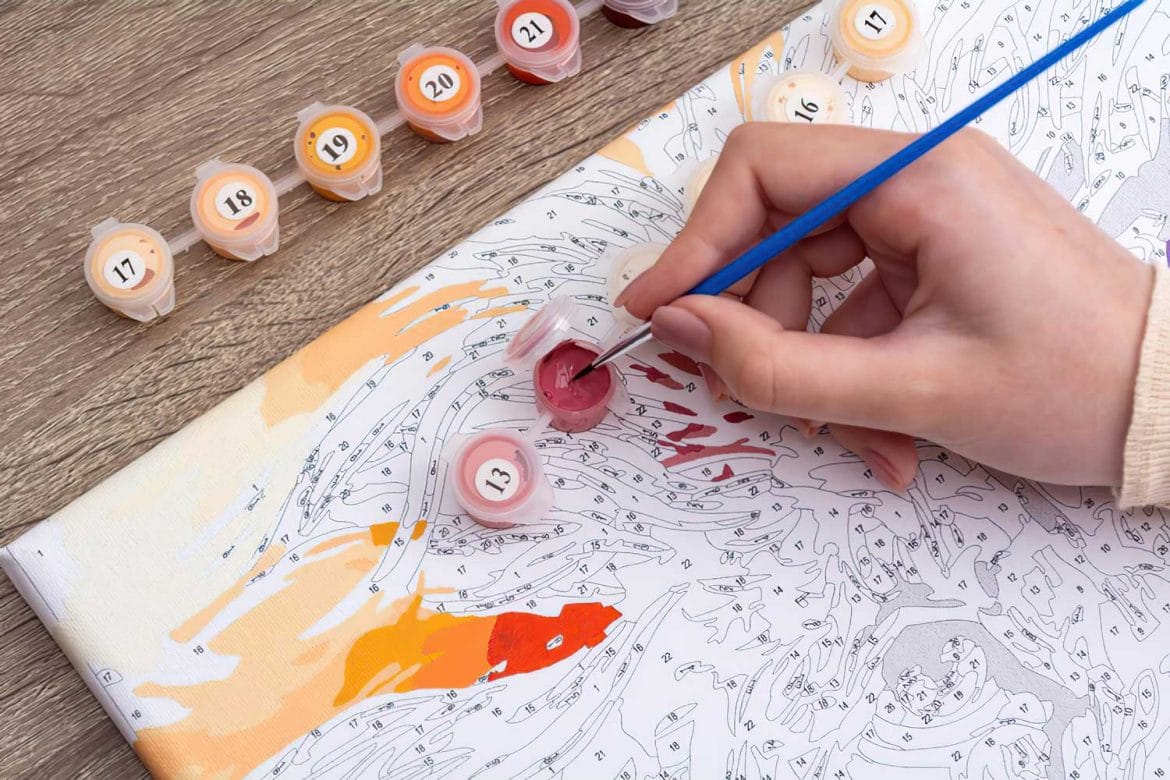 What is Paint By Numbers?
As the name suggests you just have to paint with the numbers. What do I mean by the numbers? You receive different color pots in the package, and each color is referred to as a number. The same number is also marked on the canvas.
Just fill the same number color on the canvas wherever you see that number. For instance, paint color number 7 on canvas all the way number 7 is written on the canvas. So simple right? That's why initially, it was started for kids to build more creativity in them.
As of now, you are aware that each number on the canvas refers to a color that helps you complete your painting. Find the same number of colors and fill the canvas. Be careful while filling the canvas; let your inner artist be precise to see the best outcomes.
Since it is pretty simple to paint any simple or complex patterns, it is also very popular among adults. With this technique, people get hands-on experience to draw anything they ever desired but could not complete due to a lack of proficiency in paintings. It won't be too much to say that such painting methods not only fulfill someone's dream of becoming an artist but also boost their confidence once they finish and see the final painting.
We provide you with all the required accessories within the kit. So you don't need to buy anything from the market. We also have a DIY Frame option with most of the paintings.
Have you ever heard about diamond painting? If not, we will recommend you to check out our step-by-step tutorial for diamond paintings.
Paint by numbers tutorial
Time needed: 10 hours.
So without further delay, let's get started step by step with our tutorial to know more-
Purchase your favorite paint by numbers design

First, you need to purchase your favorite paint by number painting to get started with your journey. We have selected thousands of amazing and best-selling designs for you to get started.
We suggest you go through all the designs and select the best design for you. You can have a look at some abstract designs. We are confident that you will find your favorite design in our store.
Paint by numbers all designs

If you are still unable to find your favorite design or want to make a painting from your photo album, then we can also help you with this. Just have a look at the below product to make your custom painting.

Customized paint by numbers

You simply need to upload your beautiful picture from your photo album to get your customized artwork.


Prepare the essentials

One of the first things you'll need to do when you get your paint-by-numbers kit is to determine the location where you'll be painting. Finding a comfortable place is important, and the space should be clean and free of distractions.

Also, somewhere you can leave your painting since it generally takes about 10 to 15 hours to truly complete a full paint by numbers canvas. We suggest you stick the canvas on a table; working on a table will be easier for a long time.

Now prepare the essentials along with your package accessories. We are going to work with multiple colors. So we need to wash the brushes again and again and dry them out. For this, you will need two cups of water, one for clean water and one for dirty paint water, and paper towels or cotton cloth to dry up your paint brushes.

Get all the pigments, brushes, and canvas in a single place. This will make your painting process faster because having everything near you will help you speed up your work.

Unroll the canvas

Once you receive your product, please open it carefully. Next, we have to unroll the canvas on a flat hard surface like a table or floor to get started. When the canvas is shipped, it is usually sent rolled, and you will have to unroll it.
While unrolling, if the canvas doesn't lay flat on the surface, you need to roll it back to the other side and then open it again and stretch it out as far as possible using tape.

Pull the canvas tight and apply tape to all four corners at this time. You may also consider putting tape around the borders of the canvas so that you don't accidentally paint in the white area of the canvas; this choice is up to you now. Ultimately this border area will get covered once the canvas is framed.

Understanding the canvas

The canvas has some numbers marked on it. These numbers refer to a color. The Color supply pigments and the numbers on the canvas will be the same. So please look at the image below to know how to read the canvas properly.
As you can see in this picture, the canvas and color pots both have a number marked. So we need to precisely fill up the same color corresponding to each number written on canvas in the given area.
For instance, in the picture, we have marked the number 12 on both pigment color and canvas, meaning we have to fill the color number 12 on the canvas where the number 12 is marked.

Prepare your brushes

Preparing your brushes before you start using them is a good idea. Look at them, evaluating whether or not they have any stray hairs. To make that easier, dip them in water and take a closer look.
If there is a distinct clump of stray hairs you will need to cut using any pair of scissors. This way, you will be able to be precise and won't have to worry about your brushes messing up your painting.
We have provided you with 3 different-sized brushes. Please use them accordingly, depending on the area that needs to be covered. If you have to paint in a small size, use a small brush, and if the area is bigger, you can use the bigger one.

Know about paints

Before starting the painting, you should shake the color pigment, like cough syrup, which helps to mix the color well. Sometimes if you feel that color is very creamy/viscous, mix your paint with a little bit of water from a clean water cup to make it more easily spreadable on the canvas. Now you can start painting over the number.
While using another pigment, do not forget to take the used brush, rinse it out in the water, then the extra color off on a paper towel or cotton cloth, re-wet your brush in the clean water, and move on to another paint number.
Repeat this process until all the numbers are filled with paints. We send some extra colors in pigments to make sure that your color will not go out of stock before the painting is finished.

Appreciate your artwork

Once you finish your painting, you may want to hang it up. To showcase your work, frame this painting with the DIY Frame and hang it on the wall. Painting with numbers will surely take your home decor to the next level. 

What does the paint by numbers kit contains?
You will get all the tools and accessories that are required to complete a painting. In your package, you will receive a high-quality color canvas of your choice with 3 paint brushes, color pigments referred with different numbers, a color card, and a reference color picture (miniature) of your selected photo, which is essential for how the painting will look like when it's done. You can look at the image below to learn more about the kit.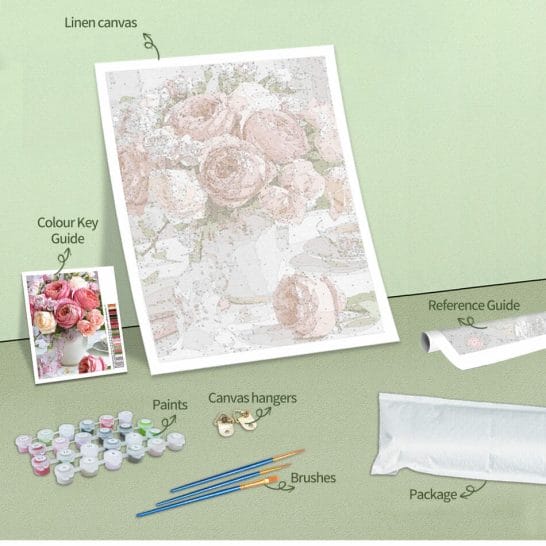 The package contains the following items
High-quality linen canvas
Acrylic color pigments/pots
3 different sized brushes
Reference drawing of the design
We are one of the best distributors worldwide, providing paint by numbers kits for adults, kids, and whosoever has a dream to become an artist.
Some tips for beginners
The color selection –
Here we would like to share some tips for selecting the color while starting. We will advise you not to start with super translucent colors or anything white. Start with the darkest color that you have for the painting.
Where to start?
Start the painting from the top left (if you are right-handed and vice versa) all the way down to the bottom right with that one color. Once you are done with the first color then go next color and repeat the process.
Now, as you're painting, you might not even know how to hold the brush but don't worry; as you become more proficient, you'll start developing techniques. However, when you're first starting, it can be easiest to use just the tip of the brush. If you dip only the tip of the brush in the paint and then color on the canvas, it will help you with precision and stay in the lines.
We hope you loved our article, and this tutorial helped you know where to start and where to go; how to get started with Paint By Numbers? If you have any suggestions or any questions, you are welcome; Please write to us at [email protected].