We know that completing a painting is a little bit long task and can take up to a month. By the way, it depends on your speed and the size of the painting. After the completion of your painting, you must be thinking about how to seal diamond painting?
Don't worry we are here to help you with a step-by-step guide to sealing a diamond painting.
Our Canvas is made with high-quality materials and has super adhesive glue on it but still, we recommend you use a diamond painting sealer. Because sealing will make an extra protection layer on your artwork.
Watch the below video to look at the sealing process, or if you want to read a step-by-step process, please continue reading this post.
We want you to invest in diamond paintings, not in the sealing process. So to make the sealing process as cheapest as possible we are using an old paintbrush to apply the mod podge on the canvas.
You just need to invest less than $10 and your diamond painting sealing will be done.
Types of diamond Painting Sealers
There are two types of sealant
Brush on sealers
Sprays sealers
Let's have a look at the sealers that can be applied through brushes
Brush-On Sealer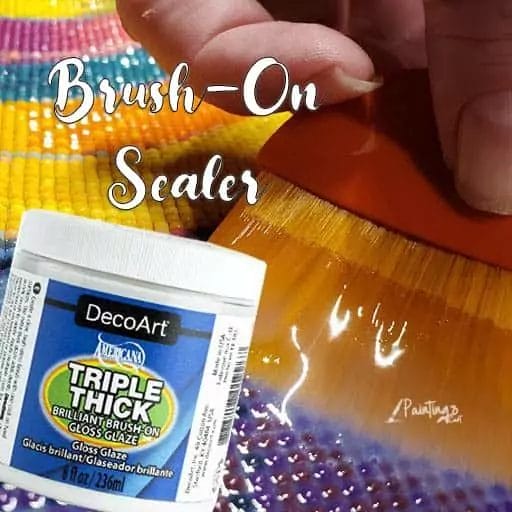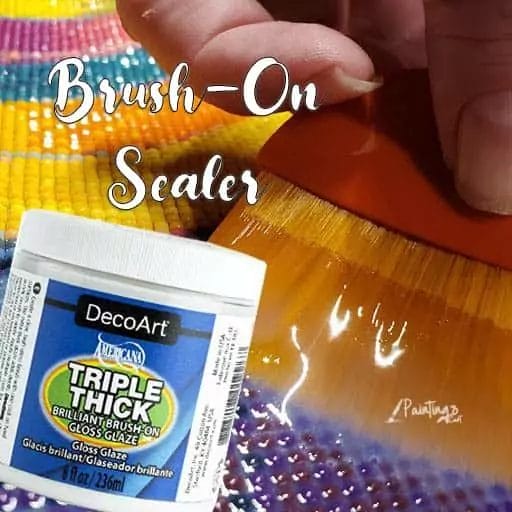 Brush-on sealers are the best sealant to prevent your diamond painting from any type of damage and this will definitely increase the life span of your diamond painting. You can choose a shiny or matt finish brush on the sealer.
Pros:
Water-resistant
Can be used for other things like wood sealing as well
Dust Proof
You can mount your Painting without the Glass Frame
Cons:
Your diamonds will lose some shine after sealing
You won't be able to roll up your painting
Spray Sealers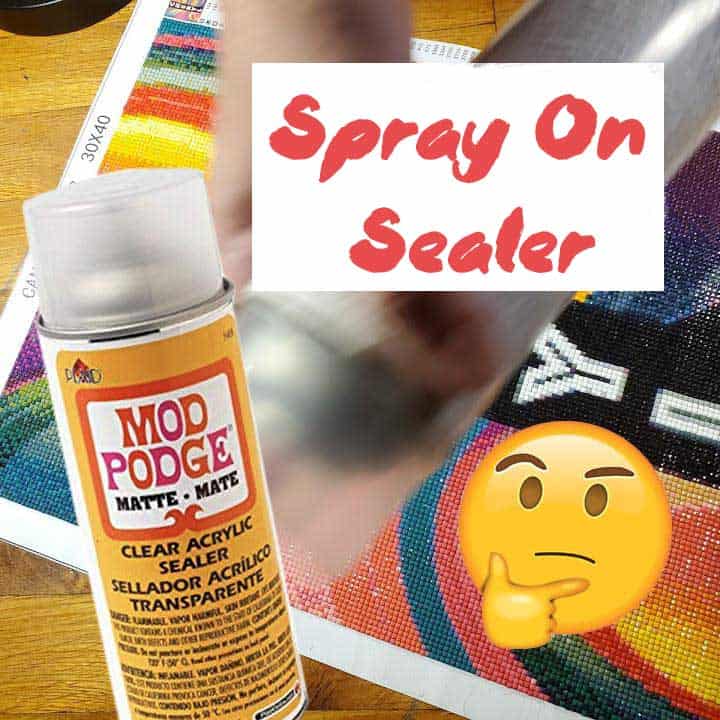 A spray sealer is totally different from a Brush-on sealer. These are used to give a crystal clear and shiny finish to the diamond painting. But it didn't fill the space between the diamonds like the brush-on sealers.
Pros:
This helps you to make your diamond sparkle for a long time.
Waterproof
Dries Quickly
You can roll up the finished canvas
Cons:
Gaps between the Diamonds will not be filled
Less dust resistant
What type of sealer should you choose?
This is totally a personal choice. But if you want to know our opinion, we would highly recommend you to get a spray-on sealer.
We love diamond painting because it shimmers, if we apply a thick layer of mod podge on the diamond painting it will lose its shining. So we suggest you always use a spray-on sealer.
How to Seal Diamond Painting?
Total Time: 30 minutes
Set All diamonds Properly
This is a must-do step for each of your diamond paintings. Our Diamond painting tutorial suggested that you should put some weight on the diamond painting for a night, or you can use a roller to flatten out the canvas.
You should make sure that all of your diamonds are completely flat and locked properly on the canvas.
Dip the brush tip in the Sealer Jar
It's time to open the Sealant jar that you purchased and Dip the brush into the sealing solution properly. You can use any painting brush of 2-inch size or any other size according to your Diamond Painting size.
Apply the Sealer to the Diamond painting
This is the last step in Diamond painting sealing with a brush-on Sealer. Now start applying the sealer to the diamond painting. At first, this will look like glue, but it will be more transparent when it dries properly.
Hang your Diamond Painting
It's time to showcase your artwork. After the sealer dries you can hang this painting to increase the beauty of your house.
Hello, dear reader, this is the proper method to seal a diamond painting. If you want to give any suggestions you are welcome in the comment section.
Please read the Faqs
Can We Use Sealer for partial Drill Kits or Special Shaped Kits?
Yes, you can use the sealer on any type of kit. But we suggest you get the smaller brush for this kind of kit.
Because we don't want to put the sealant on the part of the canvas that has no diamonds.
Can We Use sealer for Round drill kits? 
Yes, as we suggested that you can use the Sealer on any kind of diamond painting kit.
Sealing the round diamond kit is just as well as a square Drill.
How to Clean the Sealed Diamond Painting?
You can simply clean the sealed diamond painting with a clean cloth with less pressure
Which sealant is the best for diamond painting Sealing?
This is totally a personal priority that you want to use the brush on sealers or the spray-on sealers. Both of them work fine.
If you will never fold your diamond painting then we suggest you go with a brush-on sealer.
If you think that you will have to fold your diamond painting sometimes then we suggest you go with a spray-on sealer.
What to do with the finished diamond painting?
The first thing that you should do after finishing the diamond painting is sealing the diamond painting. Because sealant will increase the lifespan of your painting and protect it from dust and other bad situations.
After sealing diamond painting we suggest you frame it.
How many coats of sealer required to seal a diamond painting
We suggest you put only one coat on the diamond painting. If you add an extra mod podge or sealer, the shining of the painting will decrease.
We hope that these tips about sealing diamond painting helped you a lot. Thanks for reading.
We hope that these tips about sealing diamond painting helped you a lot. Thanks for reading.