Hello, amazing painters!! Do you know there are many types of diamonds offered by MyDiamondPainting? Then we are here to let you know that we offer a variety of diamonds like square/round/special shaped diamonds for your amazing diamond paintings. It would help if you were confused between Square Vs. Round Diamond.
If you are new to Diamond paintings, you may be too excited to start diamond painting. But with a question in mind what type of diamonds should I select? Should I go with round diamonds or square diamonds?
If yes, then no worries, dear we are here to help you with this issue. We will tell you all the pros and cons of a square or Round Diamond Drill.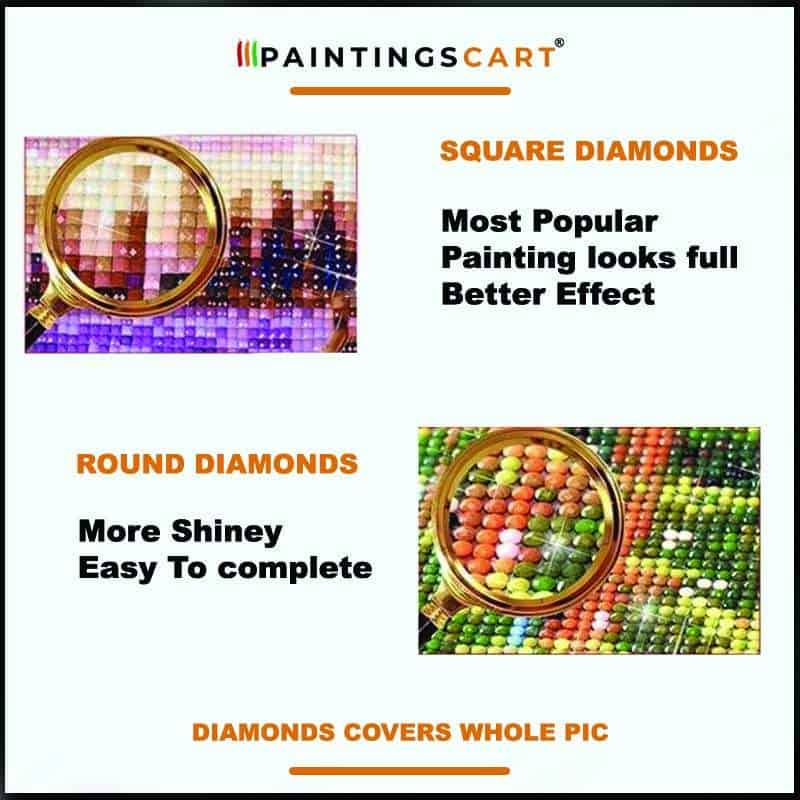 DID YOU KNOW: There are many synonyms for Diamonds now in the painting industry. Some people call it RESIN, some call it GEMS, Some call it DOTZ, and so on.
Square Vs Round Diamond Drill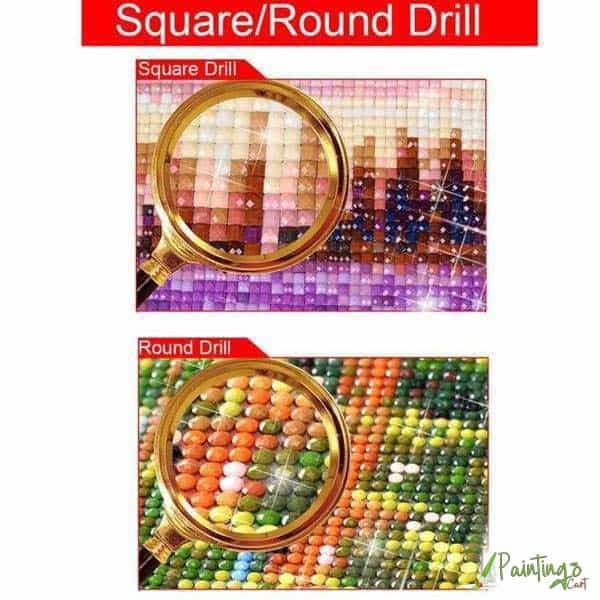 In the Diamond painting world, a "Drill" refers to the shape of the diamond that you will be going to apply the canvas. If the word drill is confusing you, then you can replace this word with Diamonds, Just like the below example.
Square Drill == Square Diamonds

Round Drill == Round Diamonds
The choice of diamond shape totally depends on your personal preference. Like the other things in life, you may like pizza, but maybe others hate pizza (BTW, we think no one hates pizza).
We hope that you got what we want to say. The thing that we can guarantee is a beautiful painting for you. Selecting between the square vs. round diamond should not be a big issue.
SQUARE DRILL OR SQUARE DIAMONDS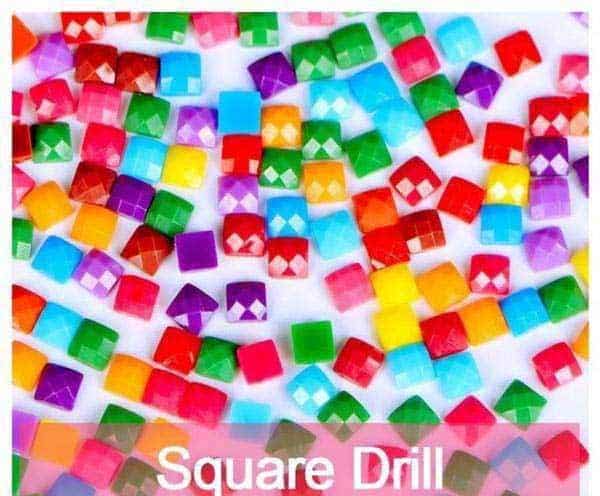 We want to show you what our customers saying about square diamonds. Then we will let you know what we think about square diamonds.
Square diamonds Make a More Complete looking painting. When you paste the diamonds on the canvas, there will be no or negligible space between the diamonds. So this type of diamond creates a fully covered-looking diamond painting. When you look at the diamond painting made with square diamonds with a small, it looks amazing.

Megha K. AUS
Square diamonds satisfyingly "snap" Into place. We hope you know diamond paintings take a long time (around 1 or 2 weeks) to get completed. So it is very satisfying to fill in the gaps. You will love the sound of the click.

Maria P. USA
A little bit Hard to Pick Up According to some of our customers, square diamonds are a little bit hard to pick up due to their shape.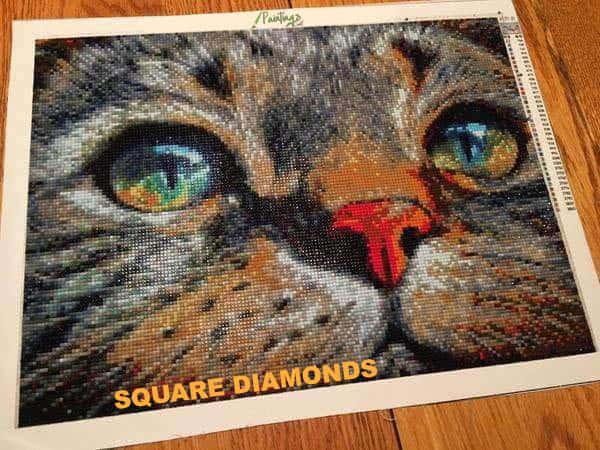 ROUND DRILL OR ROUND DIAMONDS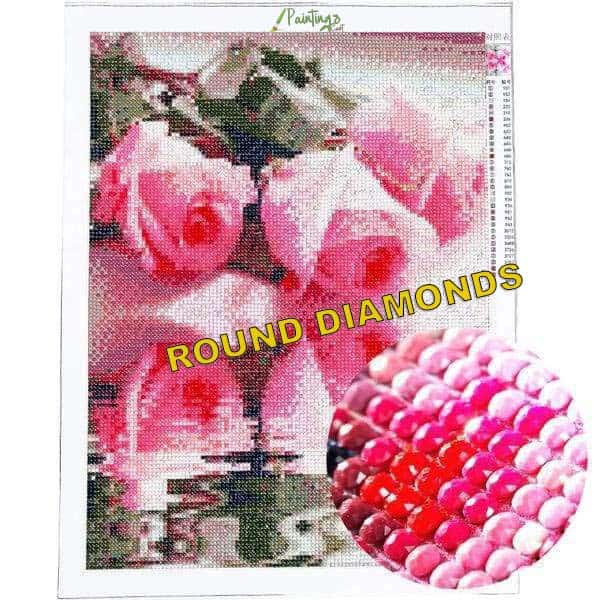 Easier (And Faster) To Pick Up and Applying the Diamonds. Due to the shape, the Round diamond drill seems to stick to the diamond pen better, and this will help make your diamond painting faster.

Johana, Canada
Less "Complete" look There will always be a small gap in the round diamond due to its shape. We hope you got our point when you look at the painting too closely, the gaps between the Diamond Dotz.

Nimayra, Singapore
Look Shinier This is one of the benefits of round diamonds that they are shinier than square diamonds

Neha, India
DID YOU KNOW: Our Custom Diamond Paintings are made with Square diamond painting but you can request to make those paintings with round diamonds as well.  
Conclusion
What do We and our hardcore Diamond Painting fans think?
We created a poll in our diamond painting group and below are the results. Have a look for yourself!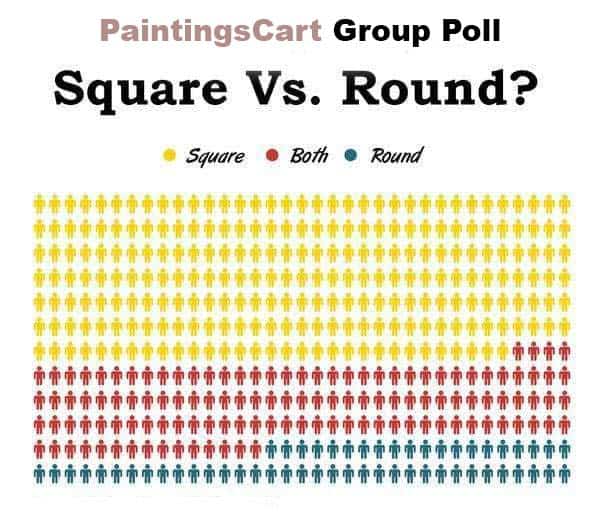 As you can see that most of our customers prefer Square over Round. In fact, many people like round diamonds as well.
We suggest you try both types of diamonds and select what you liked the most.
We hope that you loved this article and we highly recommend you to buy whatever is your preference. Our suggestion is given below
MORE COMPLETE PAINTING === SQUARE DIAMONDS

SHINIER DIAMOND PAINTING === ROUND DIAMONDS
Read some Faqs
What is Diamond Drill?
Diamond Drill refers to the shape of the Diamond. If the diamond shape is square, then we call it a square drill. If the diamond's shape is specially shaped or around, we will call them special-shaped drills and round drills.
How to Choose between Square and round Diamond Shape?
If you are confused about choosing the right shape for you, you must read the full article above.
If you want to get a complete painting, then go for Square Diamonds, or if you want to get a shinier painting, you should go with Round Diamond Painting.
What is a specially shaped diamond drill?
These diamond drills are neither square nor round. They are made especially for specific paintings. You can check hundreds of Special shaped diamond paintings on PaintingsCart.